17 Feb 2022
Dr. Anna Eyal was recruited in 2018 to head the Technion's new Quantum Matter Research Center. After overseeing the Center's set-up and launch, she now singlehandedly manages the unique facility and ensures that researchers benefit as much as possible from its top-of-the-line equipment. 
Dr. Anna Eyal, who is 38, lives in Haifa with her husband and two children. She was born in Romania and moved to Israel with her family when she was four years old. After obtaining a B.Sc. from the Technion's Department of Physics, she continued to a direct track PhD in the same Department under the supervision of Prof. Emil Polturak. She completed her doctoral studies in the field of experimental low-temperature physics in 2012 and then spent four years at Cornell University conducting post-doctoral research on this subject.  
Dr. Eyal's responsibilities at the Quantum Matter Research Center keep her busy. In addition to its daily management, she is responsible for the Center's marketing and the upkeep of its sophisticated machines, as well as providing constant support and assistance to the researchers who use the Center's facilities. "Although most of the researchers do the measurements on their own, some prefer that I do it for them," she says, adding that she is always available for troubleshooting. 
In her spare time, Dr. Eyal also conducts her own research. As a research associate in Prof. Amit Keren's group, she researches superconductivity and is involved in constructing a nano-coil for measuring tiny traits. She uses the Quantum Matter Research Center's magnetometer to measure the magnetic fields. "New types of superconductors are very small, just a few microns, and can't be measured with conventional tools. We are building a very sensitive coil that has never been built before," she notes. This project is just one example of how the Center's cutting-edge facilities are enabling scientists to make exciting breakthroughs. 
Open to all researchers
The Quantum Matter Research Center, which is part of the Technion's Department of Physics, remains open 24/7 in order to meet the high demand for its services. Indeed, researchers from a wide range of Technion faculties as well as from outside the university rely on the Center's cutting-edge equipment for the measurement of quantum materials. These measurements include X-ray diffraction, direct current resistivity, electrical transport, thermal transport, magnetization and heat capacity. The advanced equipment enables researchers to carry out measurements at a wide range of temperatures, from the extremely low temperature of 0.05K and up to 1000K, and magnetic fields of up to 14T.
"We are an open facility where anyone can come and conduct advanced measurements. We usually serve more than 20 different research experiments every month. Typically, the researchers come to the Center on a regular basis, sometimes for just 2-3 hours and sometimes for several days at a time," Dr. Eyal elaborates. 
The Quantum Matter Research Center was the brainchild of Prof. Amit Keren and Prof. Amit Kanigel, who are both senior faculty members in the Technion's Department of Physics. Together, they secured the initial grants that made it possible to establish the Center. Prior to its opening four years ago, researchers studying quantum materials had more limited options. 
Sophisticated equipment
The Center is equipped with three state-of-the-art machines which, according to Dr. Eyal, "are unparalleled and have supreme capabilities." They are: 
•    Quantum Design PPMS DynaCool system, which has a 14T magnet and a temperature range of 50mK to 400K. This versatile machine enables researchers to measure thermal transport, heat capacity, electrical transport and DC resistivity.
•    Quantum Design MPMS3 magnetometer system – a unique system that provides the sensitivity of a Superconducting Quantum Interference Device (SQUID) and multiple measurement modes. It includes a 3He option, enabling cooling down to 400mK, and a 7T magnet.
•    Bruker (D8 advance eco) diffractometer for X-ray diffraction. This machine is a standard powder diffractometer, but is also a valuable tool for defining physical properties and helping with material characterization.
"These days, researchers generally need to book space one or two weeks in advance. The fee is per hour – nights and weekends have lower fees than daytime and weekday slots, and researchers from inside the Technion can get discounted rates," notes Anna Eyal. Since demand for the machines is high, the Center regularly expands the range of options that are offered. They are also contemplating the purchase of additional machines to meet the demand.
Thanks to Anna Eyal's extensive expertise and strong commitment to serving the research community, the Center will continue to grow and facilitate the characterization of quantum material for researchers both inside and outside the Technion.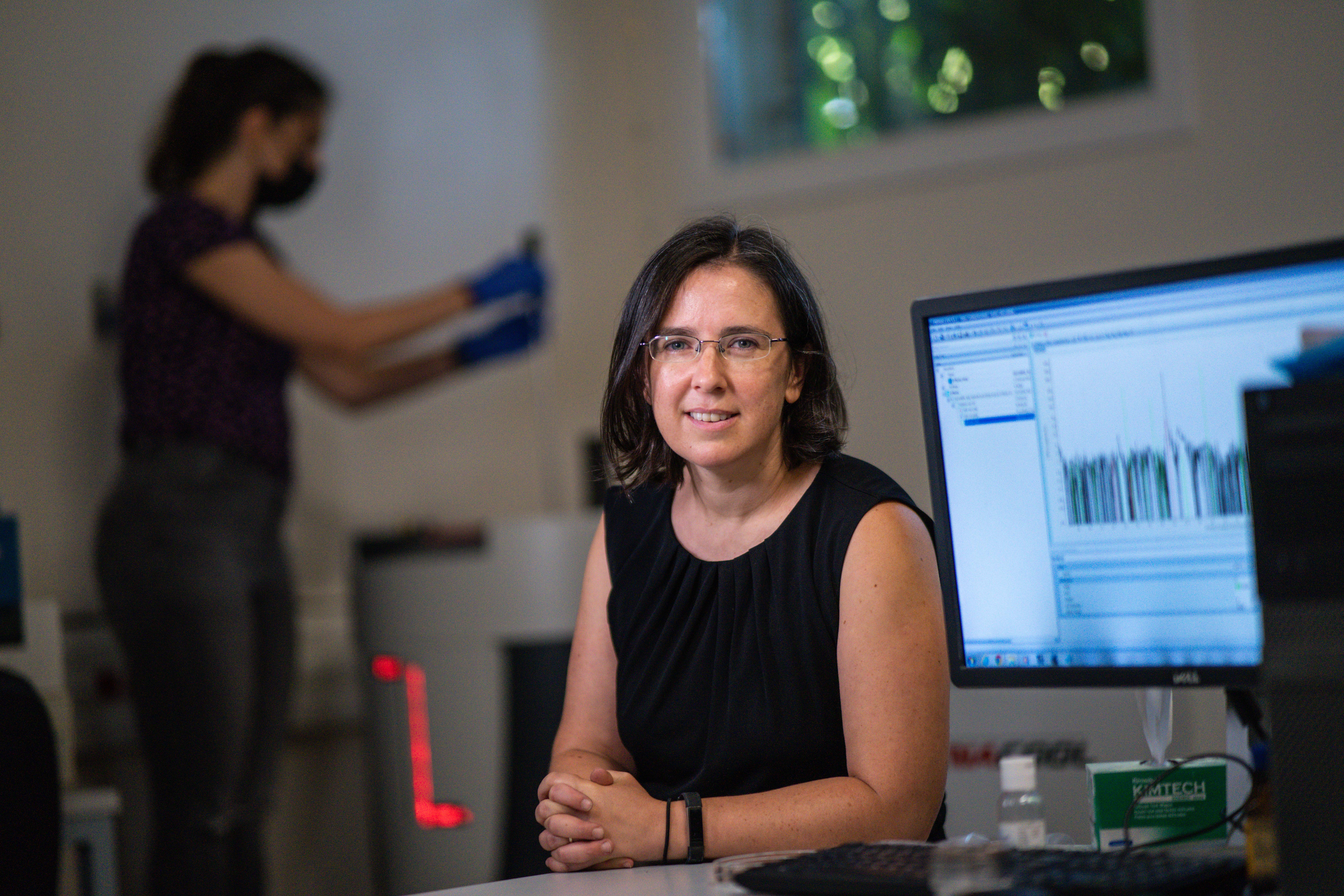 Photographer: Nitzan Zohar